Billy Bragg interviewed by Rob Bowman
Legendary British rebel rocker-writer Billy Bragg makes an exclusive Toronto appearance on July 17, 8 PM, at the Gladstone Hotel Ballroom! He will read from his new book Roots, Radicals & Rockers: How Skiffle Changed the World and discuss it and his career with author and ethnomusicologist Professor Rob Bowman.
"In his 60th year, Billy Bragg's heading for national treasure status."—Andre Paine, London Evening Standard
Billy Bragg
Roots, Radicals & Rockers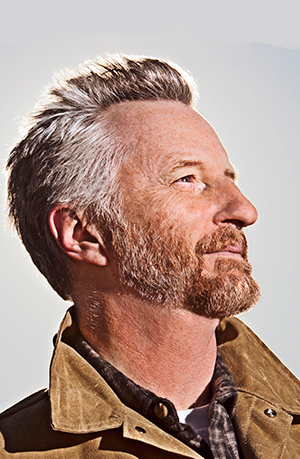 Billy Bragg
Billy Bragg is a singer-songwriter and activist inspired by the Clash and politicized by the 1984 miner's strike. He has released 13 studio albums, authored books on Englishness and lyric writing. Bragg is a regular contributor to the British national debate as a television and radio commentator, and newspaper columnist.
"There's probably no more succinct way to describe English folk-punk Billy Bragg than with the title of his album, Mr. Love & Justice. His songwriting has always been marked by two major themes: outspoken leftist protest songs, and tender love songs, both seasoned with intelligence, wit, and simple compassion."—Christopher Bahn
"The image of the protest singer has always been seductive - but the notion that you can change the world by singing songs can only serve to undermine activism. Sure, we songwriters have a role to play - we can bring people together to express solidarity, we can help to raise funds, we can use our platform to offer different perspectives - but once we step down from the stage, we are individuals with nothing more than the brittle power that celebrity bestows. My experience tells me that real change can only be achieved by organised individuals working together with one another in common cause.

People tell me that they are inspired by my songs, and for that I'm thankful, but I take my inspiration from the only people in this equation who can actually make a difference - the audience. After 25 years of activism, my faith in your ability to change the world is undimmed."—Billy Bragg
Roots, Radicals & Rockers: How Skiffle Changed the World is the first book to explore this phenomenon in depth—a meticulously researched and joyous account that explains how skiffle sparked a revolution that shaped pop music as we have come to know it.
It's a story of jazz pilgrims and blues blowers, Teddy Boys and beatnik girls, coffee-bar bohemians and refugees from the McCarthyite witch-hunts. Billy traces how the guitar came to the forefront of music in the UK and led directly to the British Invasion of the US charts in the 1960s.
Emerging from the trad-jazz clubs of the early '50s, skiffle was adopted by kids who growing up during the dreary, post-war rationing years. These were Britain's first teenagers, looking for a music of their own in a pop culture dominated by crooners and mediated by a stuffy BBC. Lonnie Donegan hit the charts in 1956 with a version of 'Rock Island Line' and soon sales of guitars rocketed from 5,000 to 250,000 a year.
Like punk rock that would flourish two decades later, skiffle was a do-it-yourself music. All you needed were three guitar chords and you could form a group, with mates playing tea-chest bass and washboard as a rhythm section.
Rob Bowman
Rob Bowman pioneered popular music studies at York University. He lectures, publishes and broadcasts in many areas of popular music, from country, R & B and gospel to reggae, rap and funk. He has written liner notes for dozens of recordings and regularly authors, produces and advises on major documentary and CD reissue projects for record companies in Europe and North America. His many broadcast credits include a five-part radio series on the history of Canadian popular music and frequent guest spots on CBC Radio's Definitely Not the Opera.
Rob Bowman's work as an interpreter and documentarian of historical recordings of popular music has been recognized internationally. A five-time Grammy Award nominee, he won a Grammy in 1996 for Best Album Notes for his 47,000 word monograph accompanying the 10-CD boxed set of The Complete Stax/Volt Soul Singles, Vol. 3: 1972-1975, which he co-produced.
Professor Bowman's book, Soulsville, U.S.A.—The Story of Stax Records (1997), a definitive history of the legendary Memphis-based record label, has garnered numerous honours, including the Sweet Soul Music Award at the Poretta Soul Festival, Italy, and the ASCAP-Deems Taylor Award.